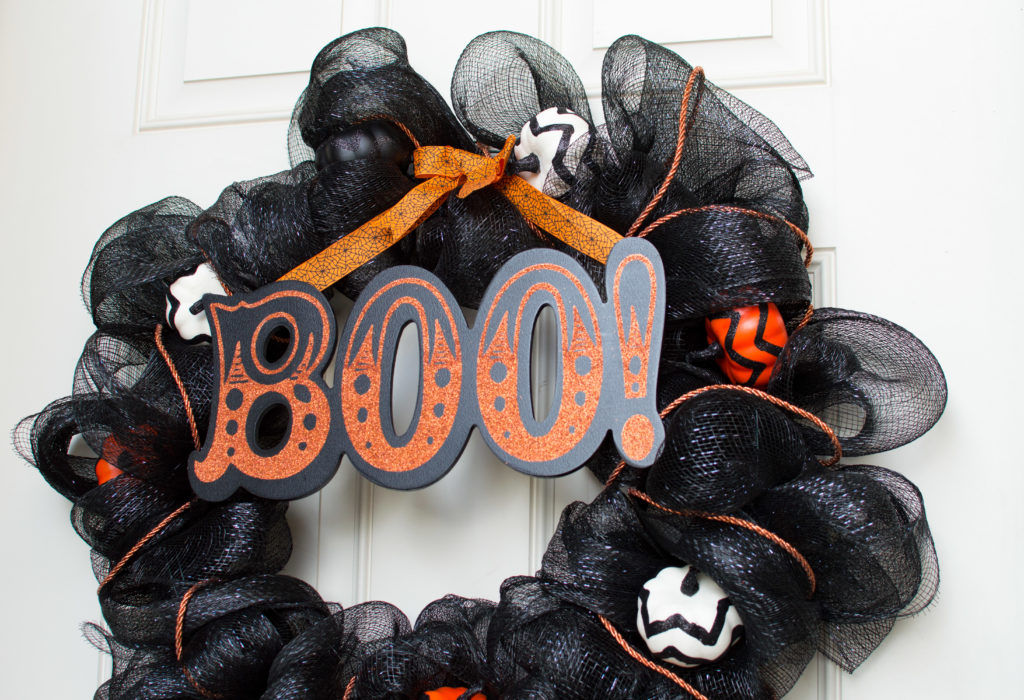 Boo! Just in time for Halloween check out this easy Halloween wreath tutorial. It won't take you more than one sitting and Hocus Pocus from beginning to end to complete. So pour yourself a tall glass of wine and sit on down for some Halloween crafting fun!
Supplies:
Wreath frame
20 inch x 10 ft black mesh
Super fun sign (your choice)
Adorable sparkle punkins
Sparkly cord or ribbon
Hot glue & glue gun
Scissors

Steps:
Glue one end of the black mesh to a starting point on the wreath frame. 
Loop the mesh in and out of the frame, spreading the loops as you go to "fluff" the wreath. This is up to you how fluffy and big you want the loops, but just make sure you have enough mesh to cover the whole wreath. If you want it really full I would recommend buying 2 of the mesh rolls. 
Secure the end of the mesh with more glue
Loop sparkly orange cord as you please around the wreath and secure with hot glue. 
Place pumpkins around the wreath to plan when you would like them best. I wanted them all to be facing slightly different directions. Then once you are satisfied with placement, glue them in place.
Decide which side of the wreath will be the top and fasten your sign to it so it hangs over the front.
Hang on your door and just bask in the All Hallows Eve greatness you have created with your two hands and a hot glue gun!