Halloween Yard Decor
So I really wanted some of those tombstones I kept seeing in everyone's yards, but I also didn't want something thin and flimsy. I also didn't want to pay $14-$20 a piece for something small and unconvincing. So my husband and I decided to make our own official looking tombstones and have them pay a little homage to my favorite Halloween movie, Hocus Pocus.
Supplies:
Garage door insulation foam boards (2) – Lowe's Home Improvement
Chisels or knives – Owned
Small metal rods – Ace Hardware
Black spray paint – Ace Hardware
Gray spray paint – Ace Hardware
Stone texture spray paint – Ace Hardware

Steps:
Divide foam into boards into 2 even (or uneven) peices and cut into desired shape, like squared top, rounded top, cross, etc. I just thought of tombstones from Hocus Pocus.
Draw out your design on the foam using a sharpie and chisel out the design as deep as desired (the deeper the more it stands out from a distance.)

This is super messy so you might want to do it outside or in a garage…not in your living room like I did. *sigh

Spray paint the tombstones black and gray, alternating and with light coats for more of a natural stone look. be sure if you have designs or writing to spray black into the crevasses so they stand out as much as possible.
Let coats dry and re-apply as needed. We did 3-4 coats of the gray and black.
Using the stone texture as the final coat spray across all the tombstones. These cans do not go very far so if you do 3-4 tombstones, as I did, you will want 2-3 cans of stone texture spray.
Stick metal rods into the bottom of the tombstones, centered so they are not too close to an edge and break off a piece. These will secure the tombstones in the ground.
Place in your yard and add any other decorations. We also added some webs to a few and a skeleton crawling out of another.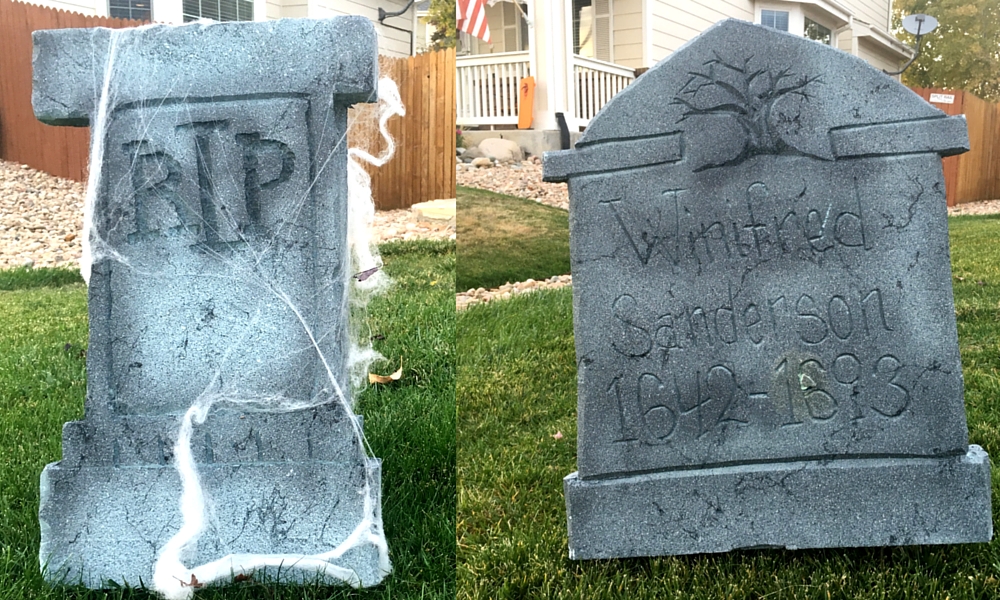 The garage insulation board is water resistant, as is the outdoor spray paint on it so the tombstones are fine to leave out in rain, snow, and sprinklers. We made ours 3 years ago and they still look awesome! This year I did a touch up on a few spots that have worn off from storage in our basement. This keeps them looking like new.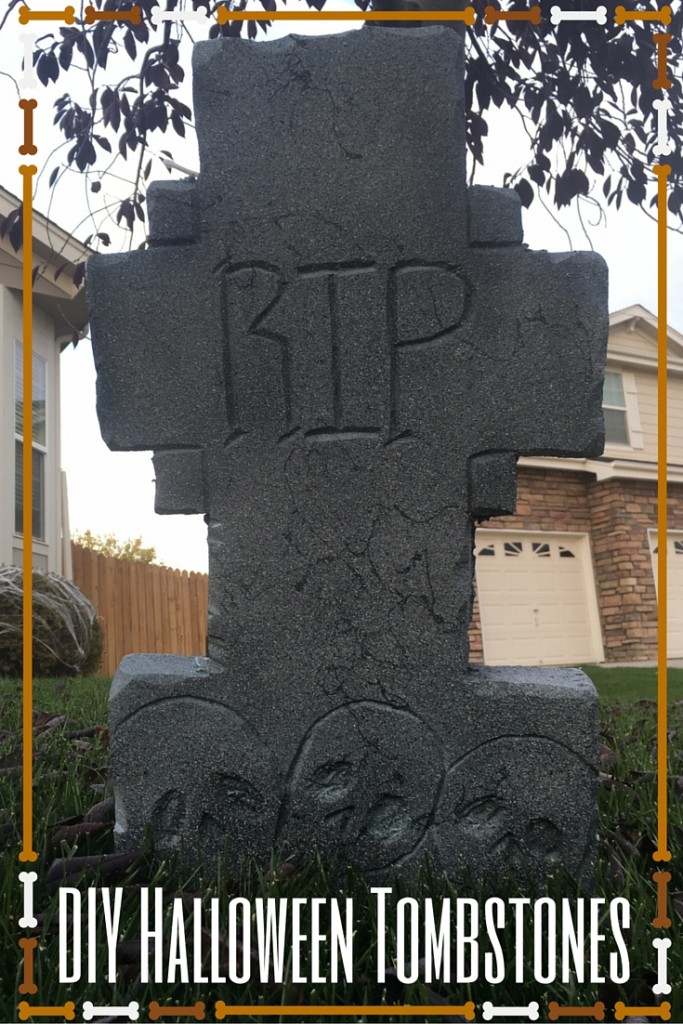 Ace Hardware supplies (stone spray paint) in this blog were generously provided by Ace Hardware. Thanks a bunch Ace!